We are road cyclists ourselves and (unfortunately) we have had enough nasty surprises with bike repairs: It takes much longer than agreed, the price has little to do with the estimate, the quality sometimes leaves much to be desired. Instead, you almost get talked into a new bike. The repair shop around the corner is not the right one for our favorite bikes, and there is no on-site service for mail-order bikes...

Reason enough for us to create a specialized workshop by road cyclists for road cyclists. We offer professional repairs with professional service. And: We are not a bike store! With us all brands are welcome, without any interest to sell you a new bike. Specialized, Trek, Pinarello etc. and mail order bikes like Canyon, Rose are welcome on our assembly stand.
---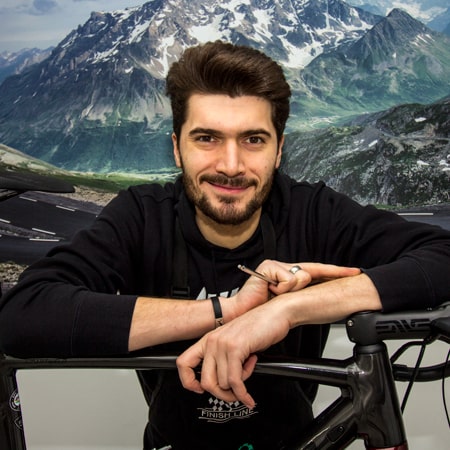 Nabil
If you add up Nabil's bike mileage, he could easily make it around the world three times. As a former rider for the Syrian national team, the racing bike remained an anchor in his new daily routine after fleeing the raging war to Germany: training at the Velodrom, wrenching on the new bike and learning German with a sophisticated bike vocabulary. Nabil has already worked for several teams and workshops. A man with heart and soul and a penchant for perfection, who knows every screw and every sprocket!