Services, Packages and Prices
Our Packages
Prices incl. 19% VAT plus material
mail-order bike final assembly
Final assembly and check for mail-order bikes (Canyon, Rose, Radon, etc.)
Shipping directly to us is possible
Standard Inspection
Safety check for defects and wear
Checking the tightening torque
Brakes check and adjustment
Care and adjustment of the shifting
Cleaning the drive train
Change chain & cassette if necessary
Pro Inspection
Standard Inspection Plus:
Pro bike wash
Degrease and relubricate the entire drive train
Clean and regrease headset
Grease bottom bracket
wrapping new handlebar tape
Elite Inspection
Pro Inspection Plus:
Mount new cables and housings
Fit new brake pads/brake discs
install new chain, cassette, chainring and bottom bracket if necessary or desired
---
Canyon Service Partner
Top service for top bikes. As an official Canyon Service Partner, we take care of maintenance, repairs and the handling of warranty cases.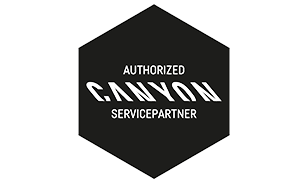 ---

Jobrad
Your dream bike via your employer - fun and tax benefits included! As a Jobrad partner workshop, we take care of servicing your bike.
---
CUSTOM BUILDS
We build your road bike, gravel bike or triathlon bike exactly according to your wishes and ideas.
PROTECTIVE FOILS
Protect your frame almost invisible against stone chips, scratches, etc.
REPAIRS
No task is too difficult for us. With our partners, we can even repair broken carbon frames.
TUNING
Upgrade to the latest group set? New aero handlebars on the time trial bike? No problem...
INSPECTIONS
Regular inspections maintain the performance and value of your machine.
ONLINE BOOKING
Simply book your workshop appointment online. No waiting, no stress. Promised.
---
Our Prices
Work that is not described in the following list, we charge according to time and effort. When you bring your bike in, the mechanic will decide what needs to be done together with. On this basis you will receive a transparent and reliable offer.
Price list
Prices incl. 19% VAT plus material
WORK
DESCRIPTION
PRICE

Brakes
Rim brake service (per brake)
change brake pads and/or adjust brake
24,00 €
Small Disc brake service (per brake)
change brake pads and/or adjust brake
34,00 €
Major disc brake service (per brake)
change brake pads, change brake fluid, bleed and adjust brake
59,00 €
Replace brake cable (per brake)
14,00 €
Replace brake cable housing (per brake)
24,00 €
Replace internal brake cable housing (per brake)
Price according to time
Replace hydraulic line (per brake)
49,00 €

Fork
Shorten steerer tube
Removal and installation, shortening, adjusting the headset
Price according to time

Chain
Replace chain
dismount old chain, cut new chain to length, mount and adjust it
19,00 €
Oiling the chain
selection of different chain oils and DryFluids
8,00 €
Chain cleaning and oiling
selection of different chain oils and DryFluids
29,00 €
Drive train cleaning and oiling
clean and lubricate chain, rear derailleur, front derailleur, chainrings
39,00 €
Degrease and wax chain
high-end lubrication for a clean drive train
49,00 €

Crank
Change chainring
19,00 €
Change crank
with fitting crank
39,00 €

Handlebar / Stem
Adjust stem and handlebar
12,00 €
Change stem
Ahead stem incl. headset adjustment. For integrated stems price according to time.
19,00 €
Replace racing handlebars
prices according to time for internal cable housing
49,00 €
Replace tri/time handlebars
prices according to time for internal cable housing
69,00 €
Handlebar tape wrapping
race handlebar or base bar + triathlon attachment
24,00 €

Pedals
Mount/replace pedals
12,00 €
Mount/replace cleats
12,00 €

Wheels / Tires
Replace tube and/or tire (per wheel)
16,00 €
Glue tubular tires (per wheel)
dismantling old tire, rim bed preparation, pretreatment and gluing of the new tire
59,00 €
Centering (per wheel)
39,00 €
Tubeless Conversion (per wheel)
dismantling tube and rim tape, mounting tubeless rim tape and valve, mounting the tire and filling with sealant
29,00 €
Sealant service (per wheel)
fill up/replace sealant
12,00 €

Frame
Bike build
assembly and adjustment of all components on the frame
240,00 €
Unbuild/demount bike
disassembly of all components from the frame
90,00 €

Saddle
Assembly/replacement of saddle/seatpost
19,00 €

Shifting/Gears
Shifting service
Adjusting the derailleur, front derailleur and rear derailleur
39,00 €
Replace cassette
19,00 €
Di2/eTap Software Update
19,00 €
Straighten derailleur hanger
29,00 €
Replace gearshift cable (per cable)
14,00 €
Replace shift cable housing (per housing)
24,00 €

Headset
Replace headset
dismantle old headset, install new, adjust
39,00 €
Headset adjustment
12,00 €

Bottom bracket
Replace pressed bottom bracket
49,00 €
Replace screwed bottom bracket
39,00 €
Bottom bracket service
check and adjustment
19,00 €